About the Author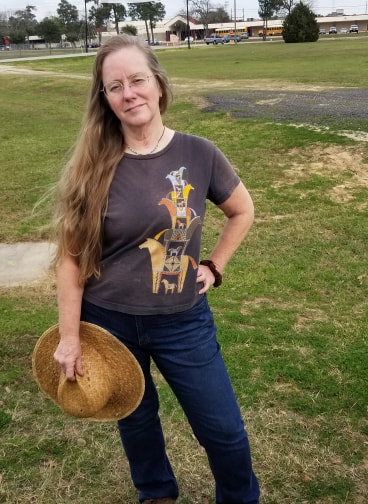 I am not a writer. Let's get that understood straight away. What I am is an avid, if not obsessive, student of history and a genealogy addict. Those are my avocations. And some art. I enjoy creating art from time to time, usually in the line of drawing or sculpting. But words have never been my forte'.
I have been researching my family history since 1976, but I've always been interested in hearing the stories of the old ones. My grandmother whom raised me was born a Bowen, and the Bowen family has always been on the forfront of my interest. This family was well researched, and books had been published. No brick walls. At least, none until I started digging into who they were. When I started this book, I had no idea just how much I didn't know.
But why write this book? Especially since I say I'm not a writer? A few years back my husband received an email about one of his ancestors - Col Andrew Hampton of King's Mountain fame - from a gentleman by the name of Joe Eply. He said he had just written a book about the Over Mountain Men, and Col. Hampton was one of the characters in the book and he thought Larry might be interested in reading it. Also, he was sponsering a project to create a forensic portrait of Col. Hampton - because he was the only commander at the battle that didn't have a surviving portrait and did Larry have any photographs of any of his ancestors in the Hampton line? We were happy to oblige him with several pictures, including a granddaughter of Col. Hampton, Larry's great great grandmother Catherine Hyder Bradley.
And we read Joe's book -
A Passel of Hate
. We both really enjoyed it! A well written book, without being too complex. I told my husband "You can write like that too!". And so he did. He is the writer in the family. He has published seven books since then. You can check out his work at
www.larrymurley.com
. As he was writing his books, and researching, I was keeping busy with my normal genealogy research on various branches of my family. Then, one day the light bulb just flipped on. I
needed
to write a book about this partiuclar ancestor - William Russell Bowen.
I sincerely hope to finish it by the end of thie year, 2020. I balance my writing time and inspiration with my life, which includes my two at home businesses, a loving and supportive husband, two attention seeking and demanding adorable doggos and a couple of pasture potato ponies in the back yard.